Nicole Conner (Niki) is one of our talented interior designers in the living studio, working on senior living, multifamily, and mixed-used projects. Jennifer Sodo recently sat down with Niki to learn more about her unique path to interior design – from her fine arts background to her own experiences with nursing homes. (Interview edited for brevity.)
---
Jennifer: Can you tell me about your journey to becoming an interior designer in our living environments studio?
Niki: Going into college, I was a jack of all trades. All I knew was that I'm creative and I really like people, so I began college in general studies to find my path. Fine arts satisfied my creative side, so I started with classes in ceramics, 2D media, and 3D art. I really enjoyed and excelled in that, but the human element was lacking. Then I discovered interior design and realized I could pursue that to channel my creativity and impact the lives of others. (Though I still double-majored in fine arts and interior design because I enjoyed the art so much.)
After graduation, I started my career as an interior designer for a high-end residential firm. It was a lot of fun, but it wasn't as rewarding as I had hoped. I wanted to have a broader impact on people's lives, so I applied at EUA and landed in the living studio because of my residential background.
Jennifer: Where did you get that desire to impact people's lives through your work? Were there any life experiences that impacted you?
Niki: I come from a very small town, so I wanted to have an impact on the everyday person, not just a handful of individuals who could afford high design. My first real job when I was 14 years old was as a dietary aid in a nursing home. My grandma, mom, and sister all worked there, and our family still volunteers there. But at 14, this job was my first experience at any senior community, and I was surprised how fun it was to talk to the residents – hearing about their rich, full lives and experiences. As part of my job, I'd set up for dinner, help prepare meals, and serve and assist residents throughout mealtimes. But then after dinner, I'd just sit and talk with residents.
The building where I worked was a bit older – the lights were dim, the floors were vinyl composite tile, and it felt clinical. The resident rooms had small windows, and there were large, open common spaces for everyone, but there were no "in-between" spaces like private dining rooms or dens for families to come visit comfortably.
What made this community so special though was that they had a farm that wrapped around the whole building, run by a group of nuns. The farm had horses, goats, sheep, llamas, poultry, even peacocks, and the dining room and a few resident rooms overlooked the pastures. Residents and their families could go outside to interact with these animals, and I just thought it was such a special attraction for the community.
Jennifer: With your unique background as a dietary aid, artist and interior designer, is there an aspect of a building's design you always notice when you first walk into a senior community?
Niki: In that first job as a dietary aid, it was eye-opening to see how some residents had families who visited very frequently while others rarely had visitors. From that experience, I became passionate about creating spaces where families want to come visit.
I think the entry sequence is so important in that regard – does the community feel like a home right when you enter? It should be bright and inviting, but beyond that, the scale and composure of the space matters a lot. Voluminous entryways are impressive, but they're not always spaces people want to "stay" in; many people would prefer more intimate, person-scaled spaces. I think layering in positive smells and sounds is also important. At the community where I worked, the smell of nuns baking bread was such a comforting reminder of home.
Jennifer: What advice do you have for me and other senior living designers to help us craft spaces that feel like home in senior living communities of any size?
Niki: I think carefully considering proportions of space is key for senior living. We need to make spaces large enough to accommodate circulation and function, but not so big that they actually become uncomfortable. This right-sizing goes a long way toward creating active spaces that make the community feel lively, more like a home than a hospital. Material choices are also so critical for older adults, from carefully designing floor surface transitions to selecting appropriate materials for the aging eye.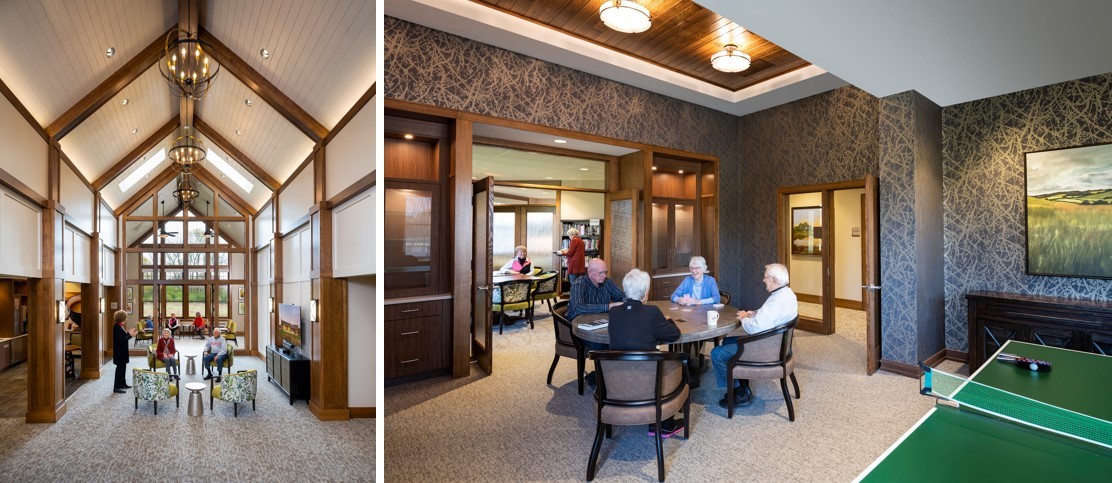 Jennifer: What's one hope you have for the senior living industry in the next 10 years?
Niki: Two things, actually – affordability and increased sense of purpose for older adults.
Coming from a small town and working in senior living, I know that a lot of people will struggle to afford quality housing and care. I'm excited about some of the middle market research and strategies we've been working through. I hope some of the middle market solutions will also involve something that connects different generations in vibrant communities to combat loneliness.
And as for sense of purpose: I connected with so many interesting residents when I was a dietary aid, and I want their stories to keep going. My grandma now lives at the community where I worked, and she just loves feeding the chickens and rolling silverware. Creating sense of purpose can be as simple or elaborate as each person needs, but I just think it's so important for older adults to feel they can give back and contribute.
 **
This interview is the first of a new series this year that highlights the unique experiences and perspectives of our living studio team members – keep an eye on our Insights page for the next installment!