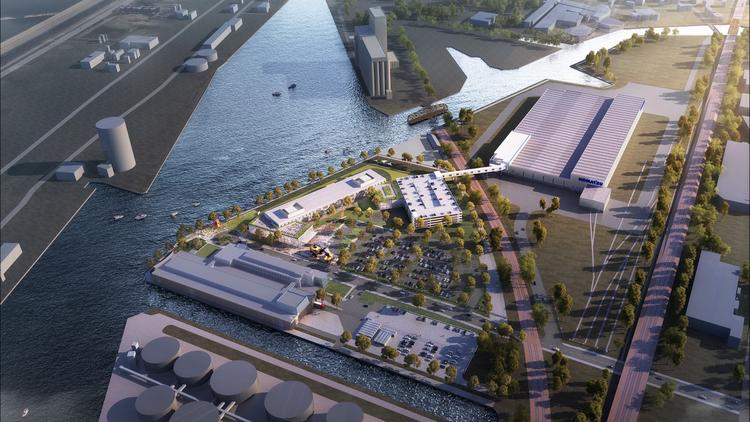 Komatsu Mining Corp. remains on track to break ground late this year on its Milwaukee headquarters, and released new detailed images of the planned office and manufacturing facility on Friday.
The company on Monday will present its $285 million harbor side campus to the Milwaukee Plan Commission. Komatsu will move its operations from National Avenue in West Milwaukee to the new facilities after they are complete in 2022. Over time, the company expects to have 1,000 or more workers there.
The main headquarters office building would stand south of Greenfield Avenue, across from the University of Wisconsin-Milwaukee School of Freshwater Sciences. Plans include a company museum and research center in the building. Like in West Milwaukee, Komatsu will display one of its large mining shovels at the main entrance.
Farther south on the 54-acre campus, Komatsu would build a 430,000-square-foot manufacturing facility. Both buildings could be expanded in the future, and a second manufacturing building could be added in future phases. A parking structure will stand between the office and manufacturing buildings. 
Public land will be reserved lining the waterfront of the campus for a harbor walk.
Hunzinger Construction Co. of Brookfield is the general contractor, and Eppstein Uhen Architects and Graef, both based in Milwaukee, are doing the design.
Sean Ryan
Milwaukee Business Journal