As Summerfest gets ready to launch the 2019 Big Gig next week, Milwaukee World Festivals officials invited the media in for a peek at the recently completed new Uline Warehouse Stage on the far north end of the Henry Maier Festival Grounds.
This year, the stage, which for years had been called the "rock stage," hosts Walk the Moon, Collective Soul, Jimmy Eat World, Chris Robinson Brotherhood, Rodrigo y Gabriela and others.
The new stage, designed by Eppstein Uhen Architects and built by C.G. Schmidt, has a rustic vibe, almost like a modern construction in a state park, with a canopy and supports of locally sourced cedar and structural supports veneered in local limestone.
Here are some architectural renderings of the new stage, released in January: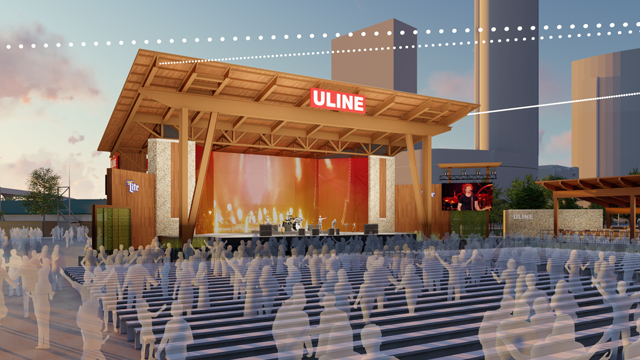 "We've brought a little bit of the Northwoods to the north gate," said Uline VP of Customer Development, Brian Shenker, at an "unveiling" of the stage on Thursday morning.
"We've hit a new high point with this new venue. It brings a whole new vibrancy to the north end.
Just inside the sleek new north entrance gate and plaza, which opened last year, the new Uline Warehouse stage has a larger performance area for performers, with expanded audio, lighting and other production capabilities, and updated dressing rooms, as well as a new production office.
There is also bigger seating area and a wider entrance, all of which means the Uline can accommodate bigger acts than in the past.
There's also a new bar area, an elevated VIP space with a dedicated bar and restrooms, an upgraded ADA-accessible viewing area in front, a guest services area and, for the first time, a video screen to the right of the stage.
The Uline stage got its last makeover in 2003.
Festival organizers also unveiled the first completed phase of the new American Family Insurance Amphitheater on the opposite end of the grounds this week.
Photos of the upgraded Uline Warehouse stage can be viewed in the original article.
Bobby Tanzilo
OnMilwaukee