The first group of Komatsu Mining Corp. office employees started moving into the company's new $285 million Milwaukee Harbor District campus and crews are completing erection of a display consisting of a massive mining shovel and mining truck.
The company, which has offices on Milwaukee's west side and a plant in West Milwaukee, has said the office transition was scheduled to start this fall, but a spokesperson confirmed to the Milwaukee Business Journal that the relocation has begun.
"Small groups of employees are being moved into the building in phases that will extend through the winter," the spokesperson said.
The new glass-clad office building is at the east end of East Greenfield Avenue overlooking the harbor area from a former brownfield site on the banks of the Kinnickinnic River.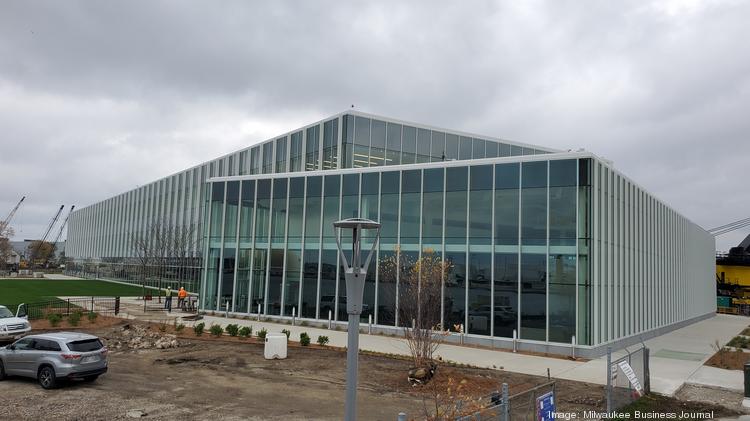 The office space will replace Komatsu Mining's offices at the Honey Creek Corporate Center on Milwaukee's far west side.
Construction continues on the new plant southwest of the new offices and along railroad tracks on the west side of the complex. The spokesperson didn't provide an update on when that will be complete.
 Komatsu Mining's longtime factory near American Family Field also features a display of a large P&H-brand mining-shovel visible from the freeway adjacent to the plant and offices.
In the Harbor District, crews have worked for weeks assembling a mammoth mining shovel facing Greenfield Avenue. The equipment is a P&H 4100A electric rope shovel that previously was used at the Kennecott Copper Mine in Utah, the spokesperson said.
On Thursday, a crew was hoisting the operator's cab into position.
Alongside the P&H shovel is parked another massive piece of equipment: A Komatsu 830E electric drive mining truck. That vehicle previously used at Komatsu Mining's Arizona Proving Grounds research and development site in Tucson, Arizona, the spokesperson said.
The new site also will include engineering and robotics labs, a customer experience center or museum and a training center.
The company has about 900 employees in metro Milwaukee. Komatsu signed an agreement with the city of Milwaukee for up to $18 million in incentives if the company reaches 945 jobs at the harbor site and additional incentives if the company exceeds that employment figure.
Rich Kirchen
Milwaukee Business Journal