Breathing new life into old buildings.
Among the countless things COVID-19 is forcing people to rethink is how to best use existing buildings once they have outlived their original purpose.
From movie theaters to large retail spaces and from corporate headquarters to abandoned movie studios, property owners are now thinking long and hard about how their existing buildings will fit into the post-pandemic world.
Enter adaptive reuse.
Adaptive reuse is the concept of finding ways to remodel existing space into a new productive use, rather than tearing it down and starting from scratch.
"It's much better to reuse a building than to take it down and put it in a landfill," says Mike Oates, project manager for Milwaukee-based Eppstein Uhen Architects.
Reclaiming an old space and putting it to new, productive use, requires some unique thinking, says Ken Smerz, CEO of Phoenix-based 3D modeling firm, ZELUS. Smerz says that as the pandemic has changed buying and working habits, adaptive reuse is emerging as an increasingly influential aspect of the construction industry.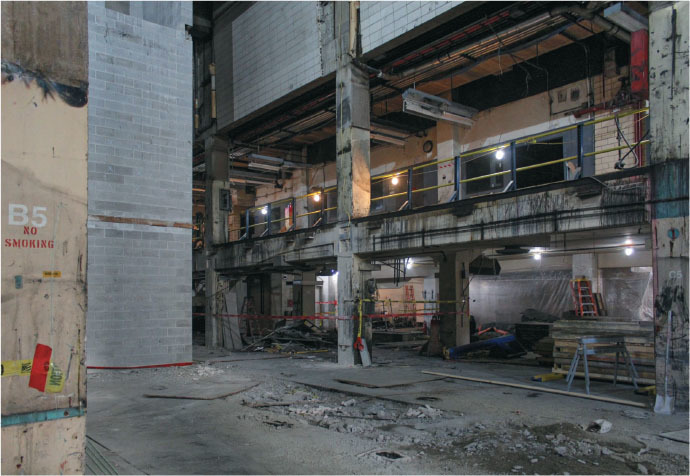 The cavernous press room from the 1962 building is being gutted to create retail space because of the large plate glass windows that face the street front. PHOTO COURTESY OF CG SCHMIDT
A CASE STUDY
One prime example of adaptive reuse is the Journal Square Lofts project in the Deer District in downtown Milwaukee being developed by J. Jeffers & Co., along with general contractor CG Schmidt, an AGC of Greater Milwaukee and AGC of Wisconsin member, and Eppstein Uhen Architects.
That project involves taking the retired campus of the Milwaukee Journal-Sentinel newspaper and giving it new life as a mixed-use residential and commercial space. Involving two historic buildings — a 1924 Art Deco building and another building erected in 1962 — the Journal Square Lofts presents both the opportunities and the challenges, of working within the footprint of an existing building.
Once completed, the development will be home to 141 apartments spread over five floors and will include 8,800 square feet of street-level retail space. Key to making the project work is a second element housed in the 1962 building, which will include 83 apartments that will be home to students attending several universities, including the Milwaukee Area Technical College and Milwaukee School of Engineering. Those student apartments will be priced below market rate.
"Once we were able to find that university partner, everything else fell into place, says Doug Geurts, director of development for J. Jeffers & Co.
Though it was the decline in the newspaper industry and not COVID-19 that left the Journal-Sentinel site vacant, the opportunities to redevelop it were similar.
Beyond being prime downtown real estate adjacent to entertainment, dining, public transportation, educational opportunities, and employment opportunities, the building also has "good strong bones, a strong concrete structure and great architectural character," Oates says.
The ultimate reason that people should consider adaptive reuse is simple — return on investment, Smerz says. But simply leveling an old structure and starting from scratch could also net positive ROI.
Adaptive reuse goes further and also helps maintain the historic fabric of the community. For the Journal Square Lofts, keeping that historic status was important to everyone involved, though it did introduce challenges.
Because it was classified as a historic site, it qualified for a $1 million incremental property tax revenue credit.
The drawback was that much of the exterior had to be preserved as-is, as well as some internal aspects. That posed logistical challenges in the initial building and demolition process, as well as required that all ventilation be routed up through the roof rather than out through exterior walls.
"Working on historic projects is its own little animal. During every step you are making sure you aren't touching things you can't and saving all the important things but still making the building work," says Dan Duerrwaechter, senior project manager executive for CG Schmidt.
OVERCOMING CHALLENGES
Because you aren't simply building from the ground up with adaptive reuse projects, planning becomes especially important. Smerz says 3D models provided by ZELUS help architects, contractors and trades at every stage of an adaptive reuse project.
Using a LIDAR scanner, ZELUS creates a millimeter-accurate image of each room and then feeds that into Building Information Management (BIM) software.
Not only does this give highly accurate information for team members to work with, but it also allows contractors to prefabricate components and quickly install them, limiting potential downtime if the space is still in use.
Oates says having 3-D models is especially useful when it comes to working with stakeholders who might not be as versed in visualizing plans.
"We can use the software to cut a section through a building and easily convey ideas," Oates says. He further comments that the models help the contractors and trades better integrate the design as the project goes along.
Duerrwaechter says BIM software makes layout for projects go much smoother.
But even with the best technology available, the Journal Square Lofts had a few hidden challenges the team had to overcome, many of which stemmed from the old industrial use of the building.
For example, the basement used to hold the presses and is now a cavernous empty space, 30-feet below street level — a space considered part of the historic significance of the building.
The team decided to turn the space into parking.
The "mind-blowingly thick" floor plates presented another challenge. "One floor was 9 inches, while the other is 21 inches," Duerrwaechter says.
The logistical challenges didn't stop there.
"When you are building a new building, it has no skin or roof," Duerrwaechter says. "But we were dealing with floors, walls and ceilings all up, and we had to find creative ways to get materials into the building."
Duerrwaechter says they used an old freight elevator until that burned out, and then they had to resort to lowering material into odd spaces using a small crane.
With it being an older building, they also ran into a lot of asbestos.
"Demo is now a three-step process. We have to open the spaces up to get to the asbestos, then contain, then come back and get rid of everything else," Duerrwaechter says.
Another issue was that the dimensions of the building would have meant that interior apartments would have had no natural light. To overcome that, CG Schmidt cut a "light well" into the center of the building, creating a shaft to let sunlight in from above. "Every project of this scale has surprises every day. That is what keeps it interesting," Duerrwaechter says.
FUTURE OF ADAPTIVE REUSE
Oates says that adaptive reuse will remain an important area of his practice and will likely be growing in coming years.
"I think we have all found that people can work remotely successfully, so I'm not sure if everyone will return to the office when this is over," Oates says. "I think that will mean there may be a lot of opportunities for adaptive reuse."
Bergner agrees, saying that as a company, they look for projects with transformative qualities that positively impact the entire community, beyond the four corners of a buildings.
"That impact can be through historic preservation, creation of housing opportunities, economic development, workforce development, educational support, or for us, often a combination of these qualities," Bergner says.
Smerz says that while repurposing o«ce space and finding opportunities for distribution and logistics hubs will very likely represent an uptick in his business in the coming years, it might not be evenly spread geographically.
"There are certainly pockets across the country where there is more demand than others," Smerz says. "States like California and New York represent hotter markets for repurposing structures, while some of the other areas may take a while to catch up."
Michael Giusti
Constructor Digital